When you file your Free Application for Federal Student Aid (FAFSA), your Student Aid Report will outline the aid for which you're projected to be eligible; at minimum, the aid will include Federal Direct Loans. When considering your expenses and financial aid eligibility, it's important to learn about these loan programs and what it means to be a responsible borrower. This page is designed to help you be informed and even learn ways to reduce the amount that you may borrow.
What are Federal Direct Student Loans?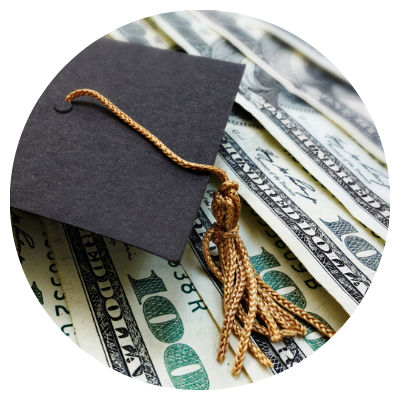 Federal Direct Loans are funds that a student may borrow from the federal government to help with tuition, books and supplies, and other college expenses. There are two types of Federal Direct Loans: Subsidized Loans and Unsubsidized Loans. Both loans offer low-interest rates for students and have flexible repayment options. Determining which loan a student qualifies for depends on their financial need, as determined by their FAFSA. Subsidized loans are offered to students with financial need, while unsubsidized loans are available to eligible students regardless of financial need. To be considered, the student must be enrolled in at least 6 required units for their approved program of study. There are annual and aggregate limits for Direct Subsidized Loans. Planning for your long-term educational goals is a requirement through loan entrance counseling and the development of a responsible borrowing plan. Loans need to be repaid and can impact a student's credit and credit scores. Click here to learn about loan amounts.
Loan Amounts
0-29 units = $5500* dependent students/$9500* independent students
30+ units = $6500** dependent students/$10,500** independent students
*may be awarded up to $3500 subsidized, the remaining will be unsubsidized
** may be awarded up to $4500 subsidized, the remaining will be unsubsidized
Learn more about subsidized and unsubsidized loans by visiting the Federal Student Aid website.
1% of SRJC students borrow Federal Direct Loans
Overall national cohort default rate (CDR): 2.3%
Santa Rosa Junior College's CDR: 3.3%
The Cohort Default Rate Guide provides information on cohort default rates (CDR) and how they are calculated. You can research other CDRs of other institutions at Official School Cohort Default Rate Search.
Subsidized vs. Unsubsidized Loans
|   | Subsidized Loans | Unsubsidized Loans |
| --- | --- | --- |
| Who qualifies? | Must have financial need | Available to eligible students regardless of financial need |
| How much can I borrow? | Loan amount varies, but they are typically lower than unsubsidized loans | Loan amount varies, but they are typically higher than subsidized loan |
| How does interest work? | Paid by the U.S Department of Education while you're enrolled at least half time | Interest begins accruing as soon as loan is taken out |
Are there ways to reduce my borrowing?
Before you borrow, we encourage you to carefully weigh the pros and cons of borrowing, consider whether or not you really need to borrow, and if you do, remember you can borrow less than the loan amount offered. Click on the links below to learn ways to minimize your loan amount.
The Loan Process
The Student Financial Services is here to guide you through the loan process. Click on the tabs below to learn more about the loan process, and, as always, when in doubt, just ask us!